November 1 to 11, 2018
MTLàTABLE
See you next year! MTLàTABLE 2018 is now over.
MTLaTABLE invites each year Montrealers and tourists to celebrate the wealth and diversity of Montréal's culinary scene in restaurants across town and discover the creativity of our chefs. For this mouthwatering event, 150 Montréal restaurants offer 3-course table d'hôte menus at $23, $33 or $43 (evening menu) and $17 (brunch). 
MTLàTABLE offers you a one-of-a-kind opportunity to try out brand-new restaurants, enjoy fixed-prices menus that won't break your wallet and take part in special gourmet-themed activities.
MTLàTABLE 2018 drew more than 100,000 local and visiting foodies, generating $7M for participating restaurants.
Become a Partner
MTLàTABLE has been made possible thanks to the generous support of its partners and sponsors who benefit from many personalized activation opportunities. The event reaches hundreds of thousands of consumers thanks to our media campaign and a wide range of marketing activation opportunities. If you are interested in becoming an event partner, you can choose a wide range of options. Each contract will be tailored to your needs and objectives. 
Contact : mtlatable@mtl.org
Partners in 2018
Aeroplan is Canada's premier coalition loyalty program. Aeroplan's millions of members earn Aeroplan Miles with its growing network of over 75 world-class partners, representing more than 150 brands in the financial, retail, and travel sectors.
There are more than 5 million active Aeroplan members.
The mission of the Ministère de l'Agriculture, des Pêcheries et de l'Alimentation is to foster the prosperity of the agri-food sector and to oversee food quality with a view to sustainable development.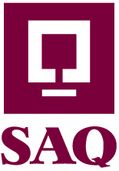 Always at the centre of the pleasures of the table, the SAQ is committed to encouraging the discovery of new products and sharing its wine and spirits expertise. It prides itself on providing access to 13,200 products from 77 countries in its network of 400 stores and 440 agency stores.
Swiss International Air Lines (SWISS) serves 102 destinations in 43 countries all over the world from its Zurich hub and the further Swiss international airports of Basel and Geneva.

Fueled by over 170 years of cocoa and chocolate expertise across the world, Cacao Barry® innovates and supports both farmers' and Chefs' needs. Cacao Barry® brings great cocoa from remarkable places to celebrate the diversity of flavours and origins to truly unlock its sensorial richness.
ESKA Natural Spring Water is drawn from our source located in St-Mathieu-d'Harricana in Northern Québec. ESKA water is naturally pure and shaped by the glacial rocks of a unique natural filtration system, an esker. Snow and rain trickle down into the esker and go through layers of rock, sand, and gravel for 15 years. ESKA water emerges naturally pure, nothing needs to be added or taken away.
Since 1938, the Association des restaurateurs du Québec (ARQ) has been committed to the economic and professional development of Quebec's restaurant managers. The ARQ is a non-profit organization with more than 5,500 members, half of which have businesses in the greater Montreal area. It provides training, government representation, insurance, information, and access to discounts (mainly through the largest purchasing collective in Quebec, the Privilege Plu$ Purchasing Program).